Connect in seconds using your customer credentials and you are ready to go. Either you are providing a service to one of your customers or you are working on your own vehicle, running Fleet Checks has never been so easy.
Bluetooth
By connecting with your device to a Bluetooth inspection tool, you will be able to gather detailed information about the vehicle and the tyres, automatically sending data to the Pro Check Online Platform.
Vehicle Search
When online, with just a licence plate search you can quickly find the Vehicle to Inspect whether if its yours or one of your customer's
Offline Support
Just download your fleet or customer information once, and then you can inspect offline. A data refresh can be achieved with a single tap.
The Advanced Solution to Optimise your Fleet.
Online Report
Our Beautiful Interactive and on line reports will always be there for you. Helping you instantly find the information you seek without scrolling to pages and pages of PDF reports.
Our Technology
The App is fast and responsive, every feature is built around the User Experience. Creating Vehicles, Searching and Inspecting will be a breeze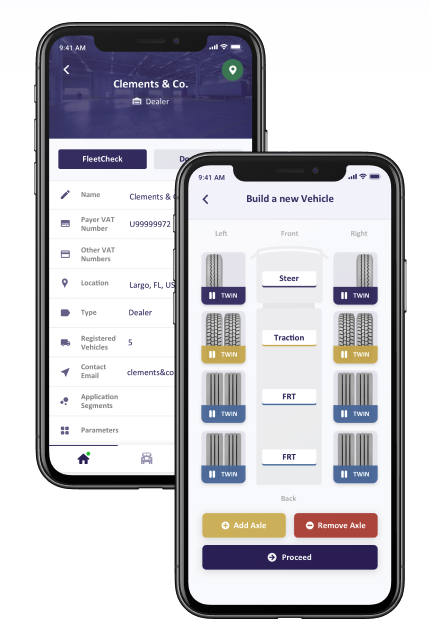 Your World
Do you have any application that might become better with our data? Just integrate it, any Web App, Mobile App or anyting else. You are not required to use our Interface at all.
Accessibility First
The App is designed to be effortlessly used with one hand. Giving you the freedom to inspect your vehicles with the bluetooth tools easily and painlessly